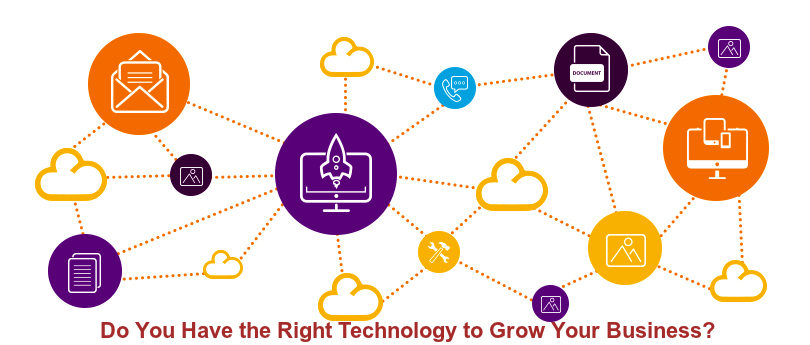 As a business owner, you don't want to limit your capabilities and cannot rely on what you already have. It's time to broaden your horizon and decide what your organization needs to invest in the coming time. Now is the time to do a quick check up of your business and decide what to include in your planning process. 
Your hard work is now paying off and you're reaping all the success but that calls for an immediate attention for moving forward making your business faster, better and more profitable. Analyzing the market scenario, having relevant offers, implementing resources, calculating all risk factors, application software etc. are a core part of your success. While you know how to use and manage your existing IT Infrastructure but you need to have the right technology partner that can complement your professional attitude. You cannot rely on the existing business process and with time, it becomes obsolete and results in inefficient practices. On the contrary, the right technology can help improve and grow your business. The right technology can enable business growth and provide a competitive advantage.
We've highlighted some key pieces of technology that you should invest in. We've outlined them below:
Mobile Access:
This goes without saying, as the world is going mobile. You can provide on the go services to users and can connect with them instantly. With the mobile app, you can easily target a larger audience and can convey your message effectively and efficiently. The number of people accessing the internet on mobile devices has surpassed and is proliferating. They can connect with you immediately.
With mobile apps, you can easily target users with location-specific messages. You can integrate geo-location technology into the mobile application and can target consumers at the right time and place. By investing in mobile app development you enhance user engagement and satisfaction.
Also, you can:
– inform users of new products/services via push-notification.
– Sync your social media accounts with the app
– better marketing and promotion
– be visible all the time
– stand out from the crowd
Data Management and Analytics:
Analyzing data isn't just for enterprise anymore. It can give you an insight on growing your business. Data analysis helps you in identifying new market stratagem and on ways to increase user engagement and satisfaction, customer retention, enhancing performance, user experience and much more.
You can study customer behavior and can get helpful inference. Things like the products customers like, which path they take on your site etc. Analytics solution can help you dig deeper into customer's mind and you'd be able to organize and structure your site in a better way.
Plug-and-Play Integration:
Sharing data and providing users with valuable information is essential for growth as it helps you provide the kind of experience users are expecting. Ensure that your apps or site are compatible with other platforms and offer plug-and-play connectivity. There are lots of Enterprise Application Integration (EAI) tools for plug-and-play approach that enable the integration of software application and hardware systems.
Cloud Computing is Effective:
Cloud computing is not only for storing, managing and processing data using a network of remote servers but a platform for collaboration in real-time. It prevents you from spending millions in operating data center and you don't have to invest in utilities, facilities, hardware and other aspects of operations.
Cloud services let you meet clients virtually and easily share data via shared storage. This reduces a significant amount of time improving customer experience and services.
Automate Where You Can:
You can eliminate redundancy in your process and improve it for the business growth and is the fastest way to enhance efficiency and performance. Automation can save you some time and efforts. You can set up automated emails, automatically add contact information into Excel spreadsheet, workflow, and other functionality. It lets you avoid human error and saves time in its execution and lets you centrally and accurately control application change. With Automation services you can gain control over application, change, deployment, packaging, recovering, troubleshooting etc.
Simply put, Technology enables you to spend your valuable time on growing your business instead of focusing on redundant processes. Embrace new ideas, new solutions and empower your business.