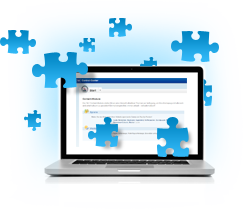 Online or virtual world literally moves at a high speed. From sending messages from one corner of the globe to another in a matter of micro seconds to placing a video call between two far off countries; it has the ability to connect and transfer data within seconds. Within such a rapidly changing environment, changes need to be instant or you can easily lag behind.
Now with business depending huge on its web domains and websites being one of major generators  of revenue for any business, it is of the utmost importance to know when to re-design your website.  Especially for online businesses, website design is like the quintessential factor or deciding factor  that needs to be properly taken care of.
Let's discuss some of the factors that have the ability to compel and change the design of your website. Firstly, mobile or smartphone usability; with the onset of the smartphone era you need to understand your user base and identify their source of surfing your website. If a larger user base accesses your website thorough a smartphone, then it is quite obvious that you need to re-design your website in a way that it open well on a smartphone screen.
Secondly, if you're trying to change the inventory; with the change in product line at the display, you need to be careful and re-design your website in way that accentuates the products at display. This can help increase the overall turnover of your business.
Third but not the last; you need to find out the reach of your website. If your website is not easily reachable through renowned search engines, you're in for trouble. This won't grab you the necessary number of 'eyes' and your website will be like an isolated monument in a desert.
Well, these are some of the reasons to induce a change in the design of your website. Keep an eye on this space for more.